The Goon Show At The Everyman Theatre
Everyman Theatre, Cheltenham, Gloucestershire, GL50 1HQ
About
Presented by Apollo Theatre Company in association with Spike Milligan Productions Ltd. The iconic British radio shows brought to hilarious life on stage. Broadcast by the BBC from 1951 - 1960 The Goon Show changed the face of British comedy. It was primarily written by Spike Milligan who starred alongside Harry Secombe, Peter Sellers and Michael Bentine. The Goon Show pioneered the use of innovative sound effects, full-length shows with proper storylines (rather than sketches), surrealism, parodies of serious works, topical satire and just plain silliness. Its continued appeal lies not just in the way it deals with eternal truths about the way the world works but because it is FUNNY.
Age Range
All ages
Dates & Times
17th Sep 2018
Share
Contact
Who's Attending?
Currently no one has marked their attendance, be the first?
Keep private
Express Interest
Currently no one has expressed their interest in this event, be the first?
Website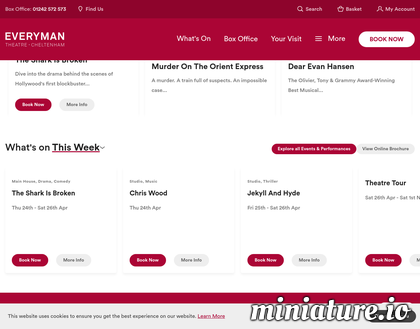 Comments
There are no comments yet, be the first!
---
New Comment
You must be logged in to post a comment.
Create an event:
Promote your event for Free!
Related Events Nearby
Nature Trail Workshop
Edward Wilson's Nature Notebooks In Cheltenham