Avenue Q At Everyman Theatre
Regent Street, Cheltenham, Gloucestershire, GL50 1HQ
About
Looking for a laugh? Don't miss Avenue Q at the Everyman Theatre!

A multi award-winning show is heading to Cheltenham this spring, promising hilarious entertainment at the Everyman Theatre.

Running from Tuesday 16 to Saturday 20 April 2019, Avenue Q returns to the stage by popular demand, offering a 'fur-lariously laugh-out-loud musical' from the producers of Flashdance and Footloose.

Audiences have the chance to see their favourite characters in downtown New York, watching as they try to make sense of life's big issues, such as what do people do with a BA in English, and what the internet is for.

Returning following a smash-hit run in 2015, Avenue Q is set to be a highlight at the Cheltenham theatre in spring, with a warning that the show isn't suitable for children under the age of 14.

Age Range
All ages
Dates & Times
16th Apr 2019 - 20th Apr 2019
Share
Contact
Who's Attending?
Currently no one has marked their attendance, be the first?
Keep private
Express Interest
Currently no one has expressed their interest in this event, be the first?
Website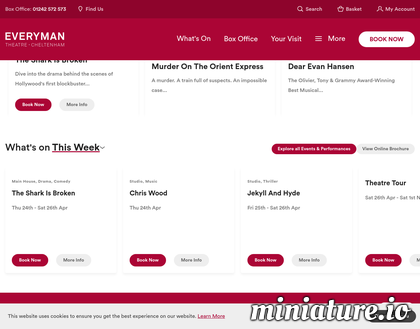 Comments
There are no comments yet, be the first!
---
New Comment
You must be logged in to post a comment.
Create an event:
Promote your event for Free!
Related Events Nearby
Friendsical At The Everyman Theatre
One-stop Story Shop