Dorian At The Everyman Studio Theatre
Everyman Theatre, Cheltenham, Gloucestershire, GL50 1HQ
About
What if a portrait didn't accurately reflect the life you've lived, but could be manipulated to show the life you wished you lived? What if your body was changing, but the image you saw of yourself wasn't?

Following on from Medusa, Proper Job Theatre Company and Andrew McMillan have now created an inspired contemporary re-telling of Wilde's Dorian Gray, exploring male vanity, gym culture, masculinity and body dysmorphia.

In a society where gender is becoming fluid, how do men deal with the airbrushing, catfishing and online beautification?

For ages 16 .

Age Range
All ages
Dates & Times
26th Feb 2019
Share
Contact
Who's Attending?
Currently no one has marked their attendance, be the first?
Keep private
Express Interest
Currently no one has expressed their interest in this event, be the first?
Website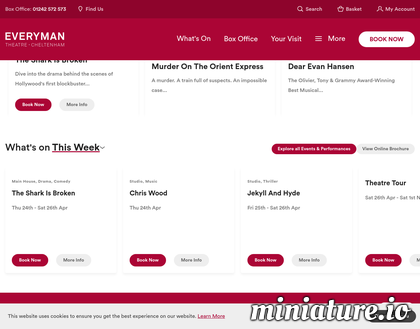 Comments
There are no comments yet, be the first!
---
New Comment
You must be logged in to post a comment.
Create an event:
Promote your event for Free!
Related Events Nearby
Tom Stade: I Swear To?
Sauce Sunday's - Ziezie