Holst Victorian House Unlocked - Special Fundraising Reception
Wellington Square, Cheltenham, Gloucestershire, GL50 4JU
About
Join Holst Victorian House for a special fundraising reception on Wednesday 5 October 18:00-20:30) at the beautiful house in Wellington Square) of one of their Vice Presidents, Jenny Ogle. The Holst Victorian House Unlocked campaign is looking to raise £30, 000 to enhance the visitor experience, both in person and online, by creating a more authentic Victorian atmosphere and using the latest technology to hear Holst's manuscripts and bring alive the stories and treasures of the house. To find out more: https://holstvictorianhouse.org.uk/hvhunlocked/ The event will include: - Drinks and canapes - A 'treasure hunt' quiz devised by curator Laura Kinnear, based on some of the objects from the Museum - An opportunity to socialise with other supporters and help fund-raise further enhancements to the Museum. There will be a number of VIP guests. Edward Gillespie, Lord-Lieutenant of Gloucestershire, Alex Chalk MP and Cheltenham mayor, Councillor Sandra Holliday, have already confirmed that they will be there. Numbers are necessarily limited, so book your ticketss) early to avoid disappointment. Tickets are £25 each, To give you the best chance in the 'Holst Victorian House Treasure Hunt' objects quiz, you are recommended to visit Holst Victorian House beforehand.
Age Range
All ages
Dates & Times
5th Oct 2022
Share
Contact
Who's Attending?
Currently no one has marked their attendance, be the first?
Keep private
Express Interest
Currently no one has expressed their interest in this event, be the first?
Website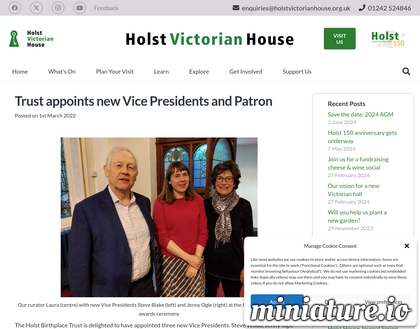 Comments
There are no comments yet, be the first!
---
New Comment
You must be logged in to post a comment.
Create an event:
Promote your event for Free!